Reviewed for H-German (August 2020).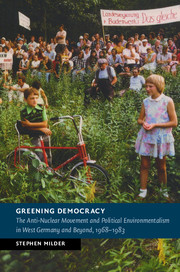 Summary: Throughout Greening Democracy, Milder stresses that antinuclear activism was about more than the Greens and that it did more than just bring '68ers into the fold of liberal, parliamentary democracy. These are welcome arguments, and Milder misses no opportunity to show how people of different generations and with no connection to the Left also engaged in anti-nuclear protest. The claim that their grassroots activism—and not just the political party that later emerged from it—forced changes to the culture of West German democracy has both appeal and merit, though the narrative structure of Greening Democracy tends to emphasize party formation as the crucial outcome. One of the book's strengths is that the author takes different activists' concerns for "democracy" seriously, exploring changing forms of political engagement at multiple levels. Milder thus succeeds not only in explaining the rise of the Greens in West Germany but also in highlighting the possibilities that were gained and lost during the transition from a locally
anchored, transnational movement to a national political party. Greening Democracy is a study that deserves wide reading among scholars and students of German history, who will benefit from the connections it draws to the broader history of environmentalism in Europe and beyond.