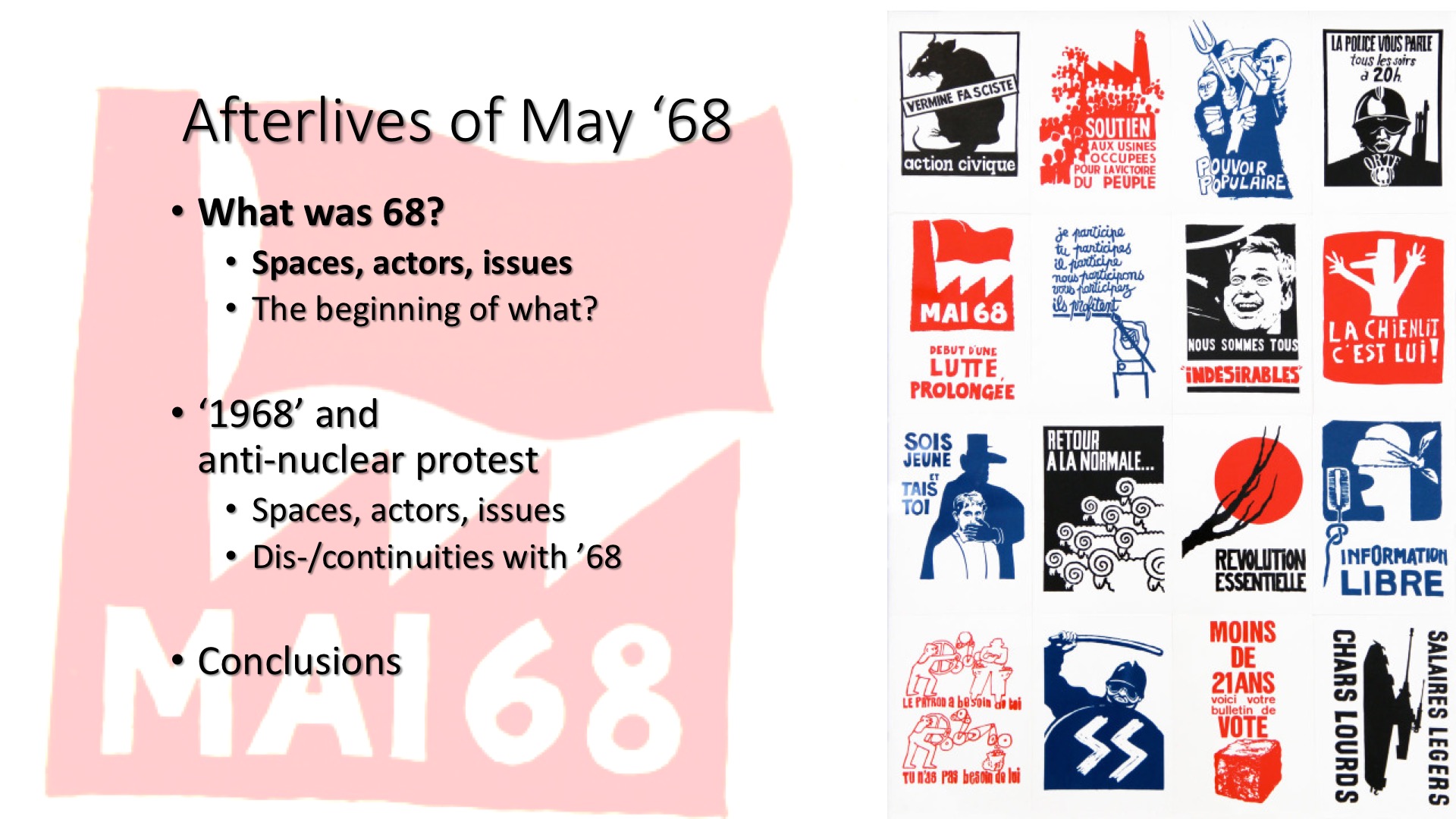 Keynote speech for '1968: Resonances and Reverberations' workshop organised by the Labour and Society Research Group of Newcastle University.
Workshop description

:
1968: Resonances and Reverberations
Labour and Society Research group workshop
On Friday 19 January 2018 the Labour and Society research group hosted a successful workshop on '1968: Resonances and Reverberations', organised by postgraduate research students Jack Hepworth, Ben Partridge, and Ruairidh Patfield. In this semicentennial year, participants spoke on the theme of the 'resonances and reverberations' of '68.
Panels addressed the experience of '68 and its aftermath in France, Northern Ireland, and the USA. Ben Partridge discussed the iconic photography of Paris's May '68 and its impact on collective memory, and Ruairidh Patfield's paper charted the array of countercultural music emerging from France's '68. Dr Sarah Campbell spoke about the enduring significance of rights-based political discourse in Northern Ireland from '68 to the present day, while Jack Hepworth's paper addressed 1988 and the contested memories of civil rights in Northern Ireland twenty years on from 'Northern Ireland's '68'. Dr Andy Clark presented research on the Dodge Revolutionary Union Movement (DRUM), a radical African-American union established in Detroit in May 1968, and Dr Ben Houston drew upon oral histories in a discussion of the memories of the Martin Luther King riots in Pittsburgh in 1968.
Keynote speaker Dr Andrew Tompkins from the University of Sheffield concluded proceedings with his paper on the afterlives of '68 in Western Europe. Discussing his own research into the anti-nuclear movements of France in West Germany in the 1970s, Dr Tompkins used oral histories to chart the disparate trajectories of anti-nuclear activists in the two states, discussing the variegated and subjective understandings of '68 in the retrospective narratives of former activists. The workshop was well-attended and discussions were lively, with participants from the university, the North East Labour History group, and the local community alike.